Chole Bhatura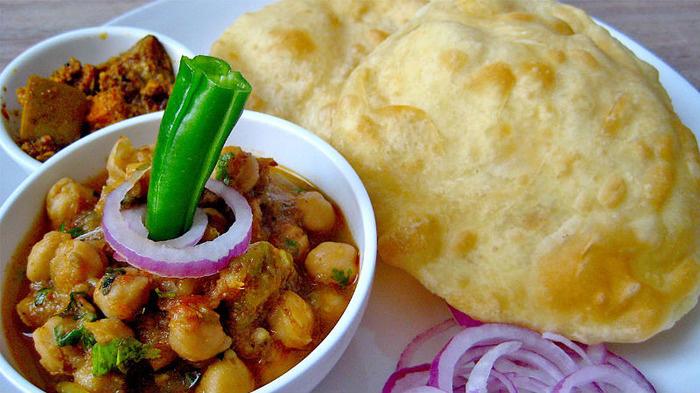 Rich, spicy, and extremely popular; chole bhature in Delhi is a must-try food combination. A piece of Delhi resides in these fried baseball-shaped bread enjoyed with onions and spicy chickpeas.
For the bhaturas:
2 cups maida (refined flour)
1/2 tsp yeast (dissolved for 10 minutes in luke warm water)
1/2 cup whole wheat flour
A pinch of salt
Water (to knead)
Oil (for frying)
1.Knead the whole wheat flour, maida and salt together with adequate amount of water.
2.Sprinkle the yeast on top. Leave it for 2-3 hours for the yeast to work.
3.Divide it into equal portions. Roll out in an oval or round shape.
4.Deep fry till golden brown, like a puri.
Credits: ndtv.com
For Boiling the Chickpeas (Chole)
200 g (1 cup) chickpeas (unsoaked)
1 cinnamon stick (or 1 tsp powdered)
3 cloves
1 black cardamom
2 black tea bags
1 medium sized pomegranate skin (not essential if you don't have it)
2 tsp Salt
½ tsp baking soda
Chole Masala Spice Mix
3 ½ tsp coriander powder (duniya poweder)
¾ tsp ginger powder (soonth powder)
¾ tsp red chilli powder
½ tsp garam masala
2 tsp pomegranate seed powder (anar dana powder)
¼ tsp turmeric powder
½ tsp cumin powder
2 Tbsp ghee (clarified butter) to cook the spices
For Frying & Cooking
5 Tbsp vegetable oil, such as olive oil
1/8 tsp hing powder (asafoetida powder)
1 finely chopped medium sized onion
6 x 1-inch long sliced fresh ginger sticks
2 green chillies
¼ cup beaten and strained unflavoured natural yoghurt (I leave this out of the recipe! No idea why it's in there, it doesn't change the taste)
1 Tbsp tomato puree
1 tsp ginger garlic paste
½ tsp dried fenugreek leaves (kasuri methi)
½ Cup Water
Credits:Karlrock.com
0 Comments